Access the Payment Express Batch Processor download at https://sec.paymentexpress.com/pxmi/logon
Once you have downloaded the software and extracted its contents you should have an MSI file called "PxBat4.msi". Executing the PxBat4.msi file prompts a straight forward five stage installation wizard. The default install directory is "C:\Program Files\Direct Payment Solutions\PxBat4\".
Files
The following files are installed in the Batch Processor installation directory during installation.

Note: an additional file (LOGON.DAT) file will be generated when the username and password is setup.
Service
The following service is installed during installation.

Installing Multiple Instances of Batch Processor on a Single Machine
In the case where multiple instances of Batch Processor need to be installed side-by-side on one machine, the first instance should be installed via the PxBat4.msi and the remaining instances manually by copying PxBat.exe and PxBatConfig.exe from the original PxBat4 folder (within C:\Program Files\Direct Payment Solutions\, if the default destination is used) and then pasted into separate directories, with one set of copies per new instance of Batch Processor required.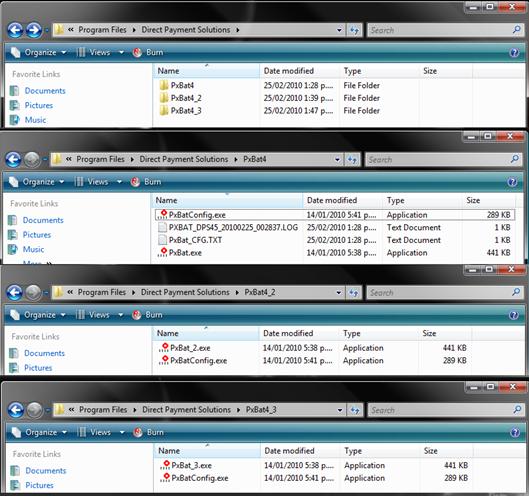 As illustrated by the composite image above, the new copies of PxBat.exe need to be renamed. The renaming should use the format PxBat_NEWLABEL.exe (where _NEWLabel is the addition to the filename), as when the new instance of PxBat is installed as a service the appended label (_NEWLABEL in this example) will be used as the default addition to the service display name (see below). In the composite image displayed above, the directory renaming matches the .exe renaming, this isn't necessary, but isn't a bad convention to adhere to. Once the additional instances of PxBat have been copied to new directories and renamed, they can be setup and run as services.
To setup an additional instance of PxBat as a service, do the following:
Within a command prompt, navigate to the same directory as the PxBat.exe file of the instance to be setup as a service.
Execute the command: nameofexecutable install (e.g. PxBat_2.exe install). This will create a new service that corresponds to this instance of PxBat.
Shared Network Input Directory
The input directory defined for an instance of PxBat does not have to reside on the local machine, it can be a shared network folder. The user that will be logged in when the instance of PxBat is expected to be running will need access to the shared network directory. Once access is obtained, that shared network directory can be defined as the input directory for the instance of PxBat by entering the network path of the directory into the directory field within PxBatConfig.exe.